THE DEBUT NOVEL BY STEPHEN BOOTH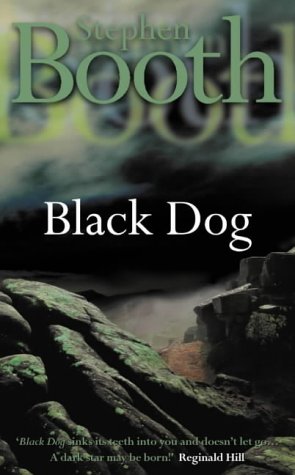 BLACK DOG
It's a long, hot summer in the Peak District, but the blue skies are darkened by police helicopters and the sound of birdsong is drowned out by the increasing hysteria of a full-scale search operation for a missing teenage girl. Laura Vernon is smart, sexy and the keeper of many secrets, but now she's lying dead in a thicket in the heart of the country.
Harry Dickinson found the body, but what instincts make him so bent on obstructing the police investigation into Laura's murder? And what do he and his two fellow retired lead miners find to talk about on those long, balmy nights in the pub, hunched over their game of dominoes?
Graham Vernon is a man who knows all about secrets, and the police are at a loss to understand the attitude of this powerful businessman and his glamorous wife to the death of their precious daughter. The Vernons are holding something back. But what could be more important that the discovery of Laura's brutal murderer?
Ben Cooper, a young Detective Constable living with tragedy, has known the villagers all his life, but his instinctive feelings about the case are called into question by the arrival of Diane Fry, a ruthlessly ambitious DC from outside the division. As Ben and Diane take the first steps in a complicated dance of suspicion, attraction and frustration, they discover that to understand the present, they must also understand the past - and in a world where no one is entirely innocent, pain and suffering can be the only outcome.
"Stephen Booth's Black Dog sinks its teeth into you and doesn't let you go. Powerful, atmospheric and as dark as its title, it is a serious novel of character and relationships as well as an ingeniously plotted and neatly resolved detective story. A dark star may be born!" -- Reginald Hill, creator of the Dalziel and Pascoe series
Other comments:
"Dark, intense and utterly compelling, Black Dog is an extraordinary novel from a major new talent."
"Has that same page-turning quality as Minette Walters at her very best."
"A brilliant new writer enriches the crime-fiction scene with an elegant, trans-Atlantic work of unflinching realism, ingenious plotting and richly textured suspense."
"Stephen Booth makes a powerhouse debut."

Find out what the reviewers are saying about Black Dog.
--------------------------------------------------------------------------------------------------------------------------------------
Order a copy of Black Dog online:

Country Bookshop
(a great independent right in the heart of the Peak District)

Find out more about Stephen Booth

Find out more about the Derbyshire Peak District

Visit HarperCollins Publishers (UK)

Back to Stephen Booth Home Page