Published by Witness Impulse at $2.99
* A number 1
bestseller
for the Nook
* A number 3
best-selling
Police Procedural
for the Kindle
* A number 1
best-selling
Police Procedural
for the Kobo
* A Top 50
bestseller for
Sony ereader
"Wow. This is a fantastic read. Not only am I
going to wholeheartedly recommend Black Dog
to everyone, I'm going to go ahead and read the rest of the Ben Cooper
& Diane Fry series."
- Amazon Reader's Review
The Cooper & Fry series has been re-launched in the USA with the release of the award-winning first novel BLACK DOG.
This was the book which first introduced readers to two young Derbyshire police detectives, DC Ben Cooper and DC Diane Fry, who operate in England's beautiful and atmospheric Peak District.
On its original publication, BLACK DOG won the Barry Award for Best British Crime Novel of the Year, and was a finalist for the Anthony Award for Best First Mystery.
It tells the story of a village torn apart by the murder of a teenage girl, and the lives of the two young police officers thrown together in the subsequent investigation.
BLACK DOG has been described as "Dark, intense and utterly compelling" and "Simultaneously classic, contemporary and haunting".
There are now 13 titles in the Cooper & Fry series, which has been published all around the world and translated into 15 languages. The novels are currently in development for a TV series in the UK.
In 2003, Stephen Booth was presented with the Dagger in the Library Award by the Crime Writers' Association for "the author whose books have given readers most pleasure".
Stephen has also been shortlisted for the CWA Gold Dagger and twice for the Theakston's Crime Novel of the Year Award. DC Ben Cooper has been a finalist for the Sherlock Award for the Best Detective created by a British Author.
The series is now being published in ebook formats in the USA by the HarperCollins digital imprint Witness Impulse.
Another title in the series will be released EVERY MONTH to October 2014.

>
>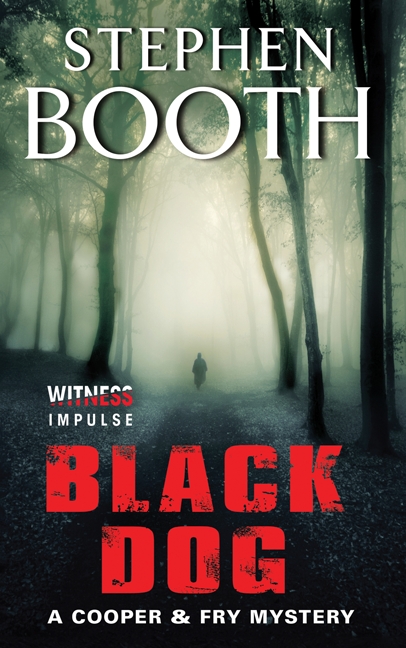 * Winner of the Barry Award for
Best British Crime Novel of 2000
* Finalist for an Anthony Award
for Best First Mystery of 2000
As helicopters search Northern England's Peak District for fifteen year-old Laura Vernon, Detective Constable Ben Cooper quietly dreads the worst.
And when her body is found in the woods, Cooper's investigation begins with a short list of unco-operative suspects - retired miner Harry Dickinson, whose black Labrador discovered Laura's body, and Laura's wealthy parents.
Uneasily teamed with ambitious newcomer Detective Constable Diane Fry, Cooper tests a town's family ties, friendships, and loyalties - and finds that in order to understand the present, they must unearth the past.
--------------------------------------------------------
What the critics said about BLACK DOG:
"Dark, intense, and utterly compelling."
"Classic, contemporary & haunting."
"Suspenseful and supremely engaging.
Booth does a wonderful job."
"Black Dog sinks its teeth into you
and doesn't let you go."
"An atmospheric,psychological stunner."
--------------------------------------------------------------------------