NEWS

NEWS

NEW STEPHEN BOOTH FORUM
A new Stephen Booth Forum has just been launched. The old forum had some technical problems, so if you were previously a registered user, please take a moment to re-register on the new forum:
JUST PUBLISHED!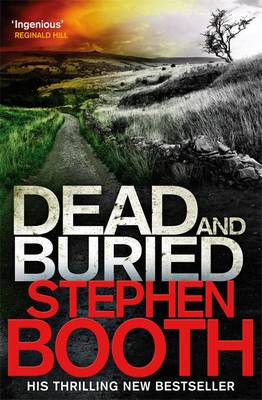 DEAD AND BURIED
The latest Cooper & Fry novel DEAD AND BURIED has just been released in paperback in the UK.
'DS Ben Cooper comes closer to death than he ever has before in this thrilling Cooper and Fry case.'
Some readers' opinions of DEAD AND BURIED:
"A stunning climax. Don't miss this entry in a marvellous series."
"Another superb story of rural noir. I can't wait for the next one."
"The climax is gripping. A book not to be put down."
"I don't think I've had as much enjoyment in reading a series as I've had reading the Fry and Cooper books."
"An unexpected and genuinely shocking climax."
"The powerful finale means this is a definite 5 stars."
As moorland fires sweep across the Peak District national park, hundreds of firefighters and rangers battle to prevent flames reaching a remote inn, once a famous landmark but now abandoned and boarded up as it waits for a buyer."
The question for Detective Sergeant Ben Cooper and the Edendale police is whether the blaze was started deliberately, just one of a series of random acts of arson which have destroyed dozens of square miles of heather moorland.
As smoke is driven closer to the inn, more questions are raised by the traces revealed under vegetation left charred by the fire. At first, they seem to be largely of interest to archaeologists. But a grim find is about to be made which is of much more recent origin. As a result, an inquiry is re-opened into the fate of two tourists who disappeared in a snow storm one Christmas, bringing Detective Sergeant Diane Fry back to Edendale from her posting with the Major Crime Unit.
Even without Fry's presence, Cooper already has plenty on his mind, with enforced changes at E Division putting pressure on his team, and complications in his private life. Now, through the smoke of moorland fires, he gets a glimpse of an incident from his past which takes on a disturbing new significance. And there are people close to him who would prefer that he didn't remember the past too clearly.
You can buy the paperback edition of DEAD AND BURIED online here:
Amazon UK Waterstones WH Smith The Hive
Or visit your local bookshop!
A Kindle ebook edition was released on the same day as the hardback, and can be downloaded here:
For the dates of signings and events, check out the Events Page.
You can read the first chapter of DEAD AND BURIED over at The Crime Vault: http://www.thecrimevault.com/ebooks/dead-and-buried/
or read Stephen Booth's blog piece called 'How I met my detectives' on the origins of Ben Cooper and Diane Fry:
http://www.thecrimevault.com/exclusives/stephen-booth-how-i-met-my-detectives/
NATIONAL CRIME WRITING MONTH
In June, the UK Crime Writers Association will again be promoting National Crime Writing Month, which will see a host of crime writers taking part in events throughout the country.
Last year, the promotion was extended from a week to a month. It will be launched at CrimeFest in Bristol at the end of May, and culminate with a Dagger Awards dinner in London at the beginning of July, with plenty going on around the country in between.
Stephen Booth is a keen supporter of libraries and will be doing many events for National Crime Writing Month. During June and early July, he'll be visiting libraries in Nottinghamshire, Derbyshire, Staffordshire, Cheshire, South Yorkshire, West Yorkshire, East Yorkshire, North Yorkshire, Warwickshire, Rutland and the West Midlands - with more dates yet to be confirmed!
To see if he's going to be in your area, check out the details on the Events Page:
http://www.crimewritingmonth.co.uk/
VIRTUAL CASTING PAGE
The Virtual Casting Page has been updated with lots more suggestions from readers for actors to play the roles of Ben Cooper, Diane Fry and Gavin Murfin, if the Cooper & Fry series should ever reach the small screen.
Among the latest additions to the page are Tom Hardy, Nicholas Burns, Sean Biggerstaff and Warren Brown for DS Ben Cooper, with Felicity Jones, Suranne Jones, Lisa Faulkner and Zoe Lucker suggested for DS Diane Fry, and Mark Benton, Mark Addy and Paul Loughran for DC Gavin Murfin.
Let us know what you think, or send you own suggestions!
http://www.stephen-booth.com/castingpage.htm
You can also join in the current discussion with other readers on Stephen Booth's Facebook page:
http://www.facebook.com/stephenboothbooks/posts/235321306603063
DEAD MAN TALKING
Stephen Booth has experienced an encounter with the Reverend Strachan McQuade (Deceased) in the notorious 'Dead Man Talking' interview series. You can read the results of their meeting online here:
http://allanwatson.blogspot.co.uk/2013/01/dead-man-talking-14-stephen-booth.html
TOP HARD PRICE REDUCTION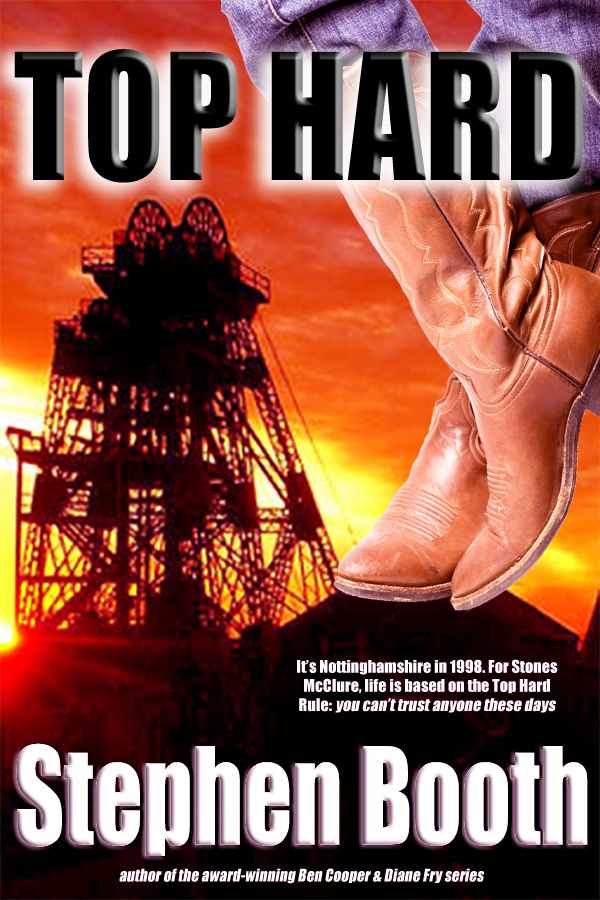 The ebook of Stephen Booth's standalone Nottinghamshire crime novel TOP HARD has been reduced in price. It's available for Kindle, Kobo, Nook, iPad etc.
A trade paperback print edition is also out there. Readers in the UK and Europe can buy copies online at the Westlea Books website, priced at £9.99 plus postage & packing:
http://www.westleabooks.com/Printsales.htm
To purchase online in the USA, American readers can just click here:
TOP HARD is something very different from the Peak District novels. But, like the Cooper & Fry series, it's set in a very specific time and place.
As he watches criminals target a French lorry parked by the side of the road, Stones McClure thinks his plans might actually come together for once. He's looking forward to a life full of everything he could possibly want. Money, cars, a pair of fancy cowboy boots - who could ask for more? But things aren't always what they seem. And Stones should know it better than anyone.

It's Nottinghamshire, England, in 1998. Derelict pits, decaying villages, rundown housing estates - all surrounded by vast, historic mansions in country parks known as the Dukeries. And there's no sign of Robin Hood to spread a bit of the wealth around.

In a world full of injustice, among people still haunted by memories of the 1984 Miners' Strike, Stones is a man trying to put his old life behind him for good. But for Stones and his friends, survival in these coalfield villages depends on the Top Hard Rule: You can't trust anyone these days.

Now it's all about to go very wrong for Stones McClure. Someone is out to get him. And most surprising of all, it isn't one of the women in his life...

TOP HARD is an irreverent crime story, reflecting life in the Nottinghamshire coalfield villages in the 1990s, and the attitudes of people living there. WARNING: some views expressed by the characters are politically incorrect, and not to be taken too seriously!
In 1998, TOP HARD was shortlisted for the first ever Crime Writers' Association New Writing (Debut Dagger) Award for unpublished novels. A few years later, a short story version was contributed to the CRIMINAL TENDENCIES anthology, as a fund-raiser for breast cancer research. The story was selected for this year's MAMMOTH BOOK OF BEST BRITISH CRIME 8, which is published by Robinson in the UK, and for its US/Canadian edition THE MAMMOTH BOOK OF BEST BRITISH MYSTERIES 8, from Running Press.
COOPER & FRY IN THE USA
With the US publication of DEAD AND BURIED and the release of BLIND TO THE BONES, the entire Ben Cooper & Diane Fry series has now become available in the USA for the first time. All 12 novels can be downloaded for the Amazon Kindle, with the first ten available for the Barnes & Noble Nook and other ebook readers.
Almost all of the Cooper & Fry backlist titles have been published in new trade paperback editions in the USA too, with just one to come (see below).
Three of these earlier books have never been published in the US until this year - DYING TO SIN, THE KILL CALL and LOST RIVER. Now that publishers Little Brown have released the two latest Cooper & Fry novels THE DEVIL'S EDGE and DEAD AND BURIED in the States, the entire series is also complete in paperback over there.
Note: A trade paperback is a large format paperback edition (9" x 6"), similar to the size of a hardcover.
(BLIND TO THE BONES is currently not available in the trade paperback edition, but a massmarket paperback remains in print from Bantam).
For US readers, here's the Cooper & Fry series in order, with links to currently available editions:
BLACK DOG Trade paperback (Amazon) Trade paperback (B&N) Kindle edition Nook edition
DANCING WITH THE VIRGINS Trade paperback (Amazon) Trade paperback (B&N) Kindle edition Nook edition
BLOOD ON THE TONGUE Trade paperback (Amazon) Trade paperback (B&N) to come Kindle edition Nook edition
BLIND TO THE BONES M/market paperback (Amazon) M/market paperback (B&N) Kindle edition Nook edition
ONE LAST BREATH Trade paperback (Amazon) Trade paperback (B&N) to come Kindle edition Nook edition
THE DEAD PLACE Trade paperback (Amazon) Trade paperback (B&N) to come Kindle edition Nook edition
SCARED TO LIVE Trade paperback (Amazon) Trade paperback (B&N) to come Kindle edition Nook edition
DYING TO SIN Trade paperback (Amazon) Trade paperback (B&N) Kindle edition Nook edition
THE KILL CALL Trade paperback (Amazon) Trade paperback (B&N) Kindle edition Nook edition
LOST RIVER Trade paperback (Amazon) Trade paperback (B&N) Kindle edition Nook edition
THE DEVIL'S EDGE M/market paperback (Amazon) M/market paperback (B&N) Kindle edition
DEAD AND BURIED Trade paperback (Amazon) Trade paperback (B&N) Kindle edition
Don't forget there's also a Ben Cooper novella, CLAWS, which is available in both paperback and ebook editions. If you're not a Kindle user, or not within the territory of a Kindle store, the ebook of CLAWS can be downloaded throughout the world in various formats by going here:
All the novels in the Cooper and Fry series are also available for the Kobo ereader:
http://www.kobobooks.com/search/search.html?q=stephen+booth
AND COOPER & FRY IN SWEDEN...
The Swedish translation of the new Cooper & Fry novel DEAD AND BURIED was published in hardback by Forum in September:
http://www.forum.se/Bocker/Bokpresentationssida/?Isbn=9789185419753
Närmare döden än någonsin förr

Så nära döden har kriminalinspektör Ben Cooper aldrig tidigare varit som i den nya, tolfte boken om honom och kollegan Diane Fry. Krypande spänning, smart intrig och trovärdiga karaktärer - Död och begraven är en kriminalgåta av bästa engelska snitt, med Peak Districts dramatiska landskap och idylliska byar som fantasieggande inramning.

Fruktansvärda bränder härjar i det natursköna hedlandskapet. Hundratals brandmän och skogvaktare kämpar för att hindra lågorna att nå fram till det avlägsna värdshuset som en gång var ett berömt utflyktsmål men nu står övergivet och igenbommat.

Ben Cooper och de andra poliserna i Edendale söker desperat svaret på frågan vem eller vad som ligger bakom de slumpartade bränder som förstört stora hedområden. Då görs mystiska fynd bland de förkolnade rester som elden lämnat efter sig. Det hela tycks vara ett ärende för arkeologer, tills man hittar något fruktansvärt som är av betydligt modernare datum.

Diane Fry kallas till sin forna arbetsplats för att återuppta utredningen av de två turister som försvann i snöstormen kring jul. Hennes gamla parhäst Ben Cooper har fullt upp på sitt håll med både påtvingade förändringar i polisorganisationen och krångel i privatlivet. Bränderna väcker dessutom liv i en händelse i hans förflutna som får en ny, högst oroande innebörd. Vissa drar sig inte för att göra vad som helst för att han inte ska minnas.
Död och begraveN can be ordered online here:
http://www.bokus.com/bok/9789185419753/dod-och-begraven/
http://www.adlibris.com/se/product.aspx?isbn=9185419753
http://www.bokia.se/dod-och-begraven-12820099
Djävulsklippan
The paperback of Djävulsklippan ('THE DEVIL'S EDGE') was also recently published in Sweden.
"Krypande spänning, skickligt sammanvävd intrig och nyanserade karaktärer - Djävulsklippan är en kriminalgåta av bästa engelska snitt. Precis som i de tidigare populära böckerna om Ben Cooper utgör Peak Districts dramatiska landskap och små idylliska byar en fantasieggande inramning."
Swedish readers can get a preview of DJAVULSKLIPPAN here:
http://www.provlas.se/djavulsklippan/
"Booth är bättre än det mesta" - a review of DJAVULSKLIPPAN in Hallandsposten:
http://hallandsposten.se/nojekultur/recensioner/bokrecensioner/1.1368574-booth-ar-battre-an-det-mesta
The paperback of Djävulsklippan can be bought online at:
http://www.bokus.com/bok/9789175030913/djavulsklippan/
http://www.adlibris.com/se/product.aspx?isbn=9175030918
http://www.bokia.se/djavulsklippan-12820070
SIGNED COPIES
A very few signed and dedicated UK hardbacks of THE DEVIL'S EDGE are still available from the Westlea Books website. There are also some trade paperbacks, which are usually export editions, the same size as a hardback.
Books can be mailed to any country in the world - all you need to do is choose the relevant location. As usual, stocks of books are limited, so it's first come, first served.
A few signed hardback 1st editions of LOST RIVER are also still available.
Go to Westlea Books.
CLAWS EBOOK AVAILABLE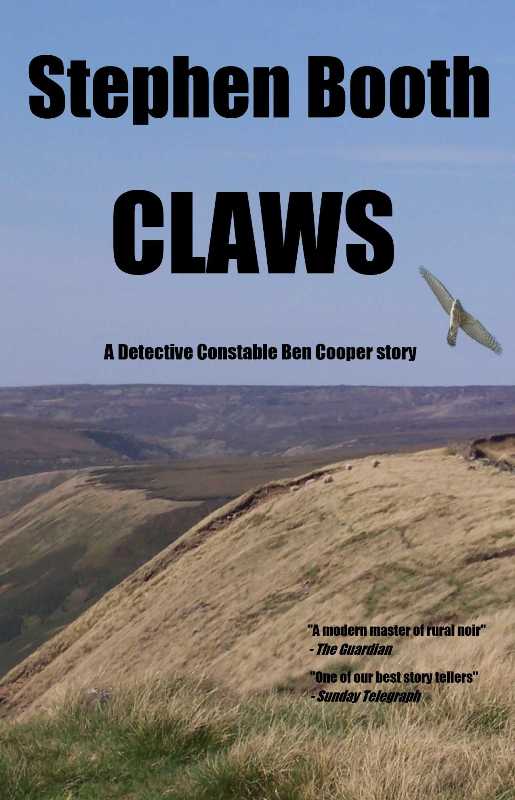 The Ben Cooper story CLAWS is available for the Kindle ebook reader in the UK, USA and Germany. And it's selling for less than a pound (or less than a dollar or a euro, depending where you live!).
You can download CLAWS direct from:
Amazon UK at 0.99 UK pence
Amazon USA at 0.99 US cents
Amazon Germany at 0,99 Euro cents
If you live in a country without a Kindle store, or if you use an ebook reader other than a Kindle, don't worry - you haven't been missed out! CLAWS is also available for download in ePub, mobi (kindle) and pdf formats via XinXii:
ePub: http://www.xinxii.com/en/claws-p-328139.html
mobi: http://www.xinxii.com/en/claws-p-328178.html
pdf: http://www.xinxii.com/en/claws-p-328161.html
There's also a new dedicated site at westleabooks.com where you can download ePub, mobi and pdf formats of CLAWS. Purchases can be made on this site from 55 countries around the world, including Australia, Canada, New Zealand, Japan, all of Scandinavia, some parts of Eastern Europe - and too many other countries to mention! This avoids the $2 Amazon surcharge for readers outside the range of its Kindle stores. Go to:
* A pdf version can be read on pretty much any personal computer using a program such as Adobe Reader, which is usually pre-installed.
CLAWS is a short novella of 15,000 words, an outing for DC Ben Cooper without the help (or hindrance ) of Diane Fry. It sees Cooper investigating wildlife crime in one of the most sensitive environments of the Peak District national park. There's also a return appearance by a character who first appeared in BLIND TO THE BONES, PC Tracy Udall.
In the wild crags of the Dark Peak moorland, a ruthless conflict has been raging for years. The discovery of an illegal haul from the bedroom of a terraced house is a clue to what might be at stake - perhaps the entire future of one of the most prized landscapes in the Peak District National Park.
For young Derbyshire police detective DC Ben Cooper, an assignment to the Rural Crime Squad means stepping into the middle of the conflict, without being quite sure whose side he's on.
The predators come in all shapes and sizes. And in this battle, not all the victims will be human...
This was one of the first titles published in the 'Crime Express' series by Nottingham independent publisher Five Leaves, and was recently re-issued in a new paperback edition. Mystery Scene magazine said: "The marketing geniuses at Crime Express deserve kudos for starting this smart series with Stephen Booth's CLAWS."
As well as all the usual places, the Crime Express titles are available from Inpress Books, an online bookstore specialising in books from independent publishers:
http://www.inpressbooks.co.uk/crime_fiction_books.aspx
GERMAN EBOOKS
Many of the Cooper & Fry novels are available in German translation, including ebook editions:
The English language versions are also widely available to German readers, including the Ben Cooper story CLAWS which has been published at the German ebook site XinXii in ePub, mobi and pdf formats:
ePub: http://www.xinxii.com/en/claws-p-328139.html
mobi: http://www.xinxii.com/en/claws-p-328178.html
pdf: http://www.xinxii.com/en/claws-p-328161.html


LOCATION, LOCATION, LOCATION...
To help all you location detectives out there, Stephen created two customised maps on Google, marking all the major locations in LOST RIVER.
LOST RIVER is set partly in Birmingham, where locations include the decaying industrial area of Digbeth, Birmingham's historic Jewellery Quarter, and modern additions to the cityscape such as Brindleyplace and the award-winning Selfridge's store (known to Brummies as the Dalek's Ballgown).
These and many other locations can be tracked on the LOST RIVER Birmingham map, along with photos and a bit of local information:
http://maps.google.com/maps/ms?ie=UTF&msa=0&msid=102008222628403175201.000481a08e0f4326a3402
But, of course, we haven't abandoned Derbyshire! Part of the story is set in and around the historic market town of Ashbourne, as well as the surrounding valleys of the River Dove and River Manifold. On the LOST RIVER Derbyshire map you can find the famous Dovedale stepping stones, the curious 'money trees', the village of Wetton, and even Ashbourne police station:
http://maps.google.com/maps/ms?ie=UTF&msa=0&msid=102008222628403175201.000481c2687e2f6834e8b
You can use the controls to zoom in and out, or click on one of the blue placemarks on the map or at the side of the screen to go straight to a particular location. If you're signed in to Google, you can use Street View in many places to get right down to ground level and see what it's like on the street (though in Dovedale you can only get as far as the car park - it's all on foot after that!).
Please give the maps a try, enjoy the scenery of the Peak District - and discover some interesting locations in Birmingham, too - then let us know what you think: comments@stephen-booth.com
WHO'S YOUR FAVOURITE ACTOR?
Several more suggestions from readers have now been added to the picture gallery on the Virtual Casting Page. Among the latest actors to be suggested for the screen role of DC Ben Cooper are Matt Bardock and Martin Freeman, while Melanie Gutteridge is put forward to play DS Diane Fry, and Trevor Cooper for DC Gavin Murfin. Let us know what you think!
http://www.stephen-booth.com/castingpage.htm


-------------------------------------------------------------------------------------------------------------------------------------------------------------


PREVIOUS NEWS:



TV INTERVIEW - THE BOOK CHANNEL

Here's a chance to see Stephen Booth talking live about THE KILL CALL. Stephen recorded an interview at Lowdham Book Festival for new digital TV station The Book Channel, which is broadcast in July on Sky Channel 166, Freesat Channel 402, and live on the internet at www.thebookchannel.tv.

Stephen's interview from the show has been uploaded to YouTube. You can view the full item at:

http://www.youtube.com/watch?v=coMvl38SU6w




Follow in the footsteps of Cooper & Fry

This Summer, why not get out your walking boots and follow in the footsteps of DC Ben Cooper and DS Diane Fry?

Some of the locations used in the Cooper & Fry series are featured in a new Peak District visitors' guide. Now you can follow Ben Cooper's footsteps of DC as he walks the snow-covered slopes of Irontongue Hill, or take the same route as DS Diane Fry and DC Gavin Murfin as they venture deep into the tunnels of Speedwell Cavern.

'Front Row of the Peak' has a film and literature theme, and it's just one in a series of ten Peak Experience booklets. Memorable locations from DANCING WITH THE VIRGINS, ONE LAST BREATH and SCARED TO LIVE are among the sights recommended to visitors, along with settings used for the filming of JANE EYRE and PRIDE AND PREJUDICE. You can also find places that have appeared in TV drama PEAK PRACTICE and the BBC's THE LEAGUE OF GENTLEMEN.

The new visitors' guide was launched in Bakewell during the Peak Book Festival, and copies are available from Peak District visitor centres. You can also find more details of Cooper & Fry locations online at the Peak Experience website, along with an interview with Stephen Booth about his Peak District inspirations.

"An authentic voice of the Peaks! Booth's details ring true: the climate and seasons, wildlife, contrasts between valley-bottom life and harsher remote hillside living, characters' names and even the ways people speak are strikingly authentic. Booth knows the Peak District."
- Peak Experience

Meanwhile, you can get a taste of the wonderful Peak District landscape by viewing the slide show on the Peak District Page of this web site.

A CHANCE TO LISTEN TO STEPHEN

Following a readers' day for visually impaired readers, Stephen Booth was asked to record an interview for 'talking newspaper' the Mansfield Echo. The full interview is also available to listen to from the website of the local newspaper, the Mansfield Chad. Just visit interviewer Bill Purdue's Chad book blog, and you can either listen online or download the interview to your PC:

http://www.chad.co.uk/CustomPages/CustomPage.aspx?Pageid=76199

TV wildlife man chooses BLACK DOG




TV wildlife presenter NIGEL MARVEN ('Walking with Dinosaurs' and 'Prehistoric Park') has named BLACK DOG as one of his six favourite books.

"BLACK DOG - I couldn't put it down!" says Nigel.

('My Best Books' feature - Daily Express)

Thanks, Nige!



Is there a real Ben Cooper in the Peak District? Well, at least one! The real-life Ben is a member of the Edale Mountain Rescue Team, who do a vital job helping walkers and climbers lost or injured on the hills. The MRT consists entirely of volunteers, and they're on call 24 hours a day, 365 days of the year. They receive no official funding, but rely solely on voluntary donations. Think you could help them? For more information on what the MRT do, check out their website: Edale Mountain Rescue Team


Stephen contributed a short story to an anthology released in November 2005. STUN TO STICK is one of 16 stories by Nottinghamshire writers in 'Sunday Night and Monday Morning' from Five Leaves Publishing. There's no appearance by Cooper and Fry in this one! Other writers contributing stories include John Harvey, Robert Harris, Clare Littleford, Jon McGregor and Julie Myerson. Copies at £9.99 can be ordered from Five Leaves, online from Amazon and WH Smith, or in the UK from your local bookshop (ISBN 090712352X).
Click here for more details of the book.




Stephen contributed his recipe for Accidental Bakewell Pudding to a new mystery writers' cook book called 'A Second Helping of Murder', published by Poisoned Pen Press.
-----------------------------------------------------------------------------------
For full details of available and forthcoming editions,
including translations, go to the Books page.
-----------------------------------------------------------------------------------

---
or
Last updated 9th May 2013